How to submit information to TSW
This page explains the different connection methods available for submitting to TSW.
---
How to submit to Trade Single Window
Users enter information to TSW using one of three methods:
Direct connect to TSW: Clients can connect to TSW directly without having to use a messaging service provider, sending their lodgements straight to TSW and receiving responses the same way. This requires a reasonable level of information technology expertise to establish and maintain the connection, and meet communications security requirements. (Note that some commercial customs and freight software providers do not allow for direct connect, as their service includes messaging management.)
Using a messaging service provider: A messaging service provider connects to TSW on behalf of its clients, and carries lodgements and responses between clients and the agencies. In some cases it transforms client data into the required format.
Using TSW Online: TSW Online (www.tsw.govt.nz) is a website that enables users to submit registrations, lodgements and check for agencies' responses. Online submission for lodgements tends to be most suitable for clients with smaller lodgements or low volumes. As there is no submission charges for using TSW Online, there is an immediate cost saving (note Customs and MPI transaction charges on lodgements still apply).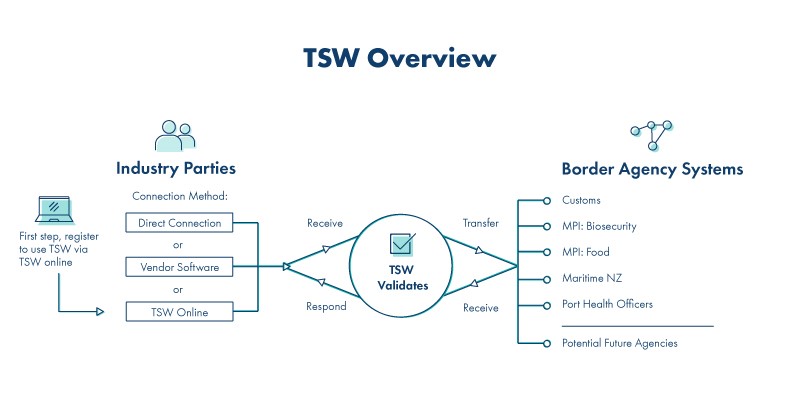 TSW transfers the information to border agencies' systems for action. The response is then sent back to the submitter.